Student Gymnast Wins Gold at British Gymnastics Championship
A very special Bradford College student has recently been crowned National U18 Champion in Pommel Horse.
---
The exceptional Patrick Watkinson, who's studying for a Level 3 in Sports Coaching and Development, has competed at the National Championships since age 11 and finally reaped the deserved rewards at the end of March.
Competing out of the Manchester Academy of Gymnastics, the 17-year-old won gold in the U18 Pommel Horse category – one of the 6 specialist apparatus he competes on.
Speaking about his experience competing in Liverpool, Patrick said: "We had a seven week build-up to the competition, which is all about getting your fitness and muscles ready.
"On the day itself, you go to the back gym and warm-up for two and a half hours, before walking out and presenting your routine on each piece."
"I qualified first on pommel so went first on finals day. This meant I got to see everyone go before me and knew what score I had to beat, so I knew I'd come first when I finished.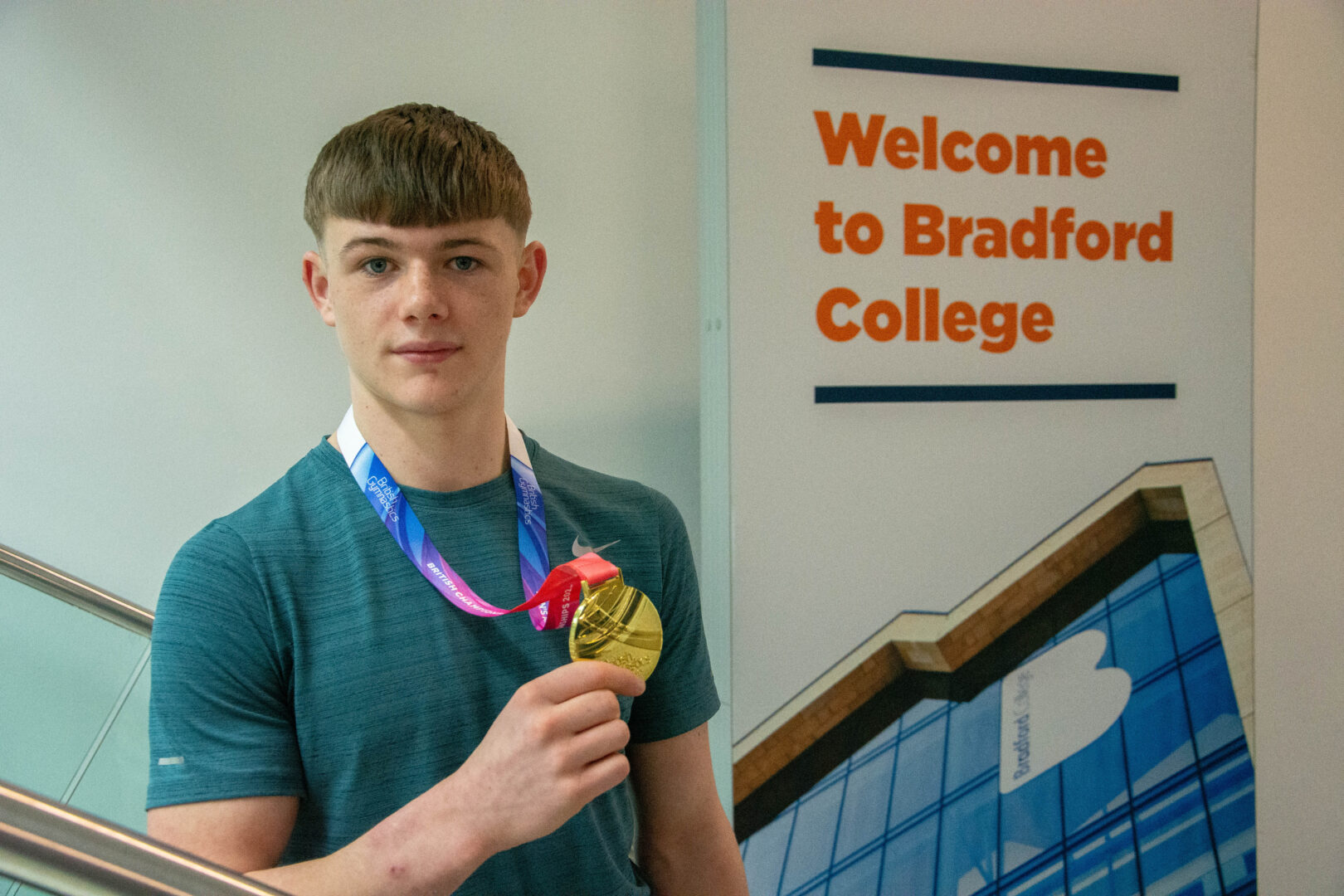 "Gymnastics is really strenuous on your body but your mind as well. When you're not getting the results you sometimes just want to stop, but it was worth keeping on going."
Despite Patrick seeing High Bar as his strongest piece of apparatus, it was a pommel score of 12.750 that saw him shake off his eight fellow finalists to take gold.
The win came following a score of 13.050 in the qualifiers, which saw him initially top the category against 36 other gymnasts.
Due to a non-stop training schedule, Patrick relies on an educational institution which understands the time and effort needed to be at the top of his game.
Speaking about this support, he said: "College are very supportive and understand that I need to train a lot.
"My teachers fit my studies around gymnastics and it all works well, with me being in College 3 days a week.
"When I leave Bradford College I want to be a gymnastics coach and I think I'm hopefully on track to do well."
Following his achievements in Merseyside, Patrick's proud Tutorial Instructor Sara Lee said: "Patrick is an outgoing and confident student. He regularly tells us about his competitions and the results.
"Over the past two years, the Sports Team have supported Patrick with his training in the gym, downtime with enrichment activities and the opportunity to complete his studies outside of his educational timetable using the Success Centre.
"The Sports Team are very proud of Patrick's achievements and will continue to support him in future events."
Patrick's triumph couldn't have come at a better time, with 2023 the final year he competes as an Under 18.
This phenomenal athlete will now look ahead to next year, when he enters as an adult for the first time, going up against Olympians that he's looked up to since his gymnastics journey began.
If you're interested in a Level 3 qualification in Sports Coaching and Development, joining exceptional peers like Patrick Watkinson, please visit https://www.bradfordcollege.ac.uk/courses/sports-coaching-and-development-level-3/ for more information.
Published: 2nd May 2023
by Bradford College
Categories
School Leavers, Sports & Fitness
Tags
Latest Articles
Press Office
Got a story for us or want to get in touch with our media and marketing team?