Progression to Learning & Work Triumph at Educate North Awards 2023
The College is celebrating today after winning an important category at the ninth Educate North Awards, held in Manchester last night.
---
The Progression to Learning & Work and 14-16 School Provision team, headed up by Matt Robinson, were victorious in the HE/FE Student Experience category – selected over seven other award entries.

This award recognises a further or higher education institution, or team, that puts students at the heart of their institution and exceeds expectations, delivering an outstanding experience and value.

Judges opted for Bradford College due to the range of phenomenal outcomes for Progression to Learning & Work and 14-16 School Provision students, as well as life-changing experiences like international sports work experience in Valencia.

Speaking proudly about the department's award, Matt Robinson said: "It means so much to win this award and to be recognised for all the outstanding work and support we give to our students daily. Everything we do in the department is about transforming the lives of our young people to support future progression into education or employment."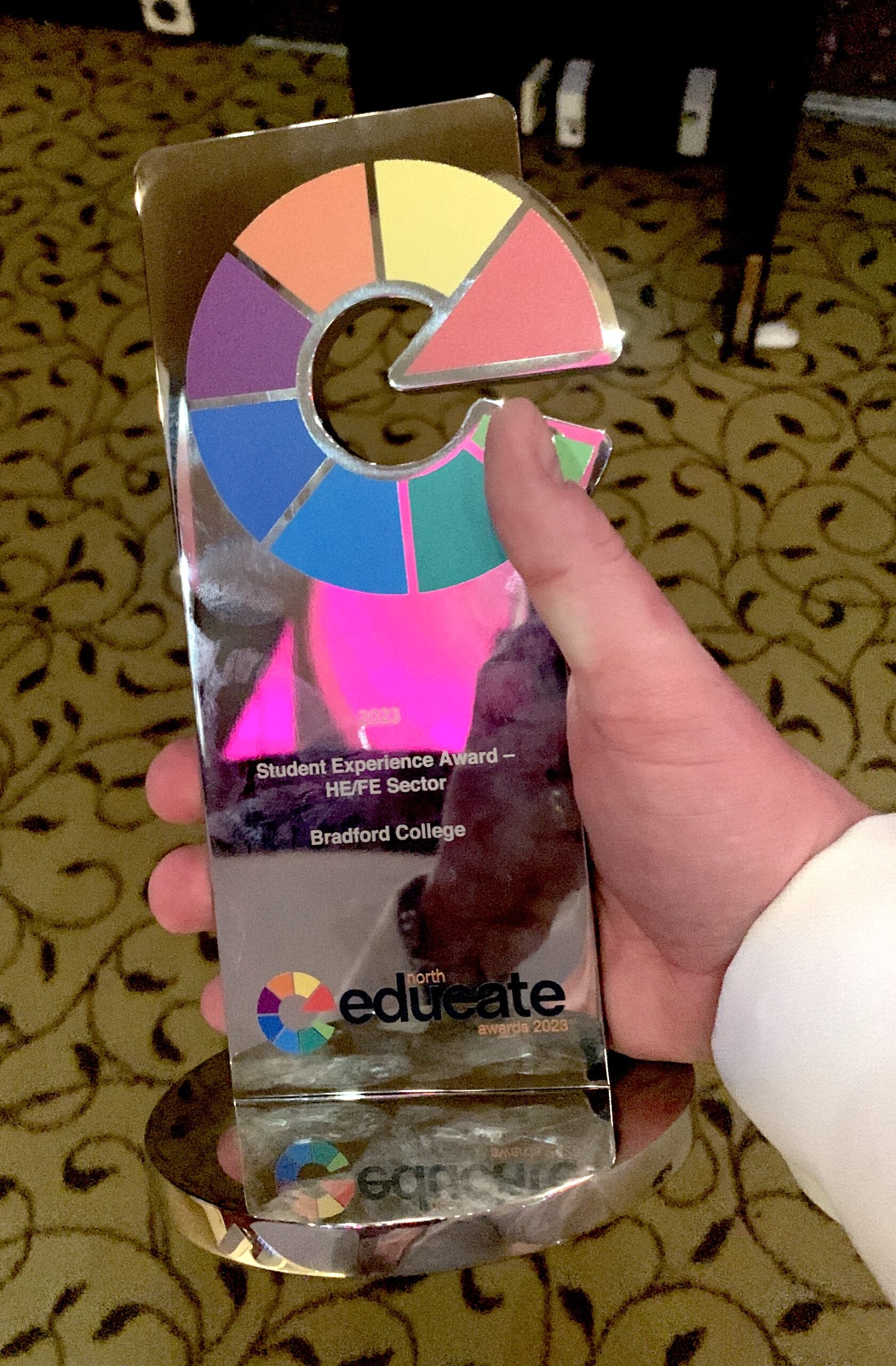 Comments included that the department had "great vision with purpose. This team is making a real difference in a severely deprived community, offering sanctuary to vulnerable learners. Through their hard work, students are taking part in invaluable enrichment classes and some experiencing international travel for the first time."

The Bradford School of Art Media Makeup team was also a finalist in the Music & Performing Arts category for outstanding arts provision in the North.

Asa Gordon, Bradford College Vice Principal Curriculum, added: "We are extremely proud to win this prestigious award that demonstrates our commitment to transforming lives. The work the department has done in creating an innovative curriculum offer that supports all students on their journey with the College is fundamental to ensuring we provide an outstanding student experience. We would like to thank the judging panel for their time in considering our application and we will treasure this award."

The awards were announced at a glittering gala dinner and ceremony at The Midland Hotel in Manchester, where Matt and members of his team collected the impressive trophy.

You can find out more about the opportunities on offer in this award-winning department by visiting https://www.bradfordcollege.ac.uk/16-to-18-school-leavers/progression-to-learning-work/ for Progression to Learning & Work or https://www.bradfordcollege.ac.uk/14-to-16-year-olds/ if you're 14-16 years old.
Published: 28th April 2023
by Bradford College
Categories
Entry Level, PLW / Foundation Learning
Tags
Latest Articles
Press Office
Got a story for us or want to get in touch with our media and marketing team?