Welcome to Bradford College
Confirm your place
If you have already applied to Bradford College and not yet accepted your place, you can do so here.
Accepting your place will ensure you receive all the information you need to start at Bradford College in advance so you can get the most out of your enrolment and induction.
If you have any queries regarding your application, or have not yet applied, do not hesitate to get in touch by emailing [email protected]. We can support you if you need extra advice or guidance about your grades or career options. Remember, you can still apply for courses starting in September!
Click on the enrolment tab to find out the next steps.
You've got your results, now what?
If you have already applied to Bradford College you will have received information on what to do next to confirm your place.
When you have confirmed your place at the College, the next step is enrolment. Go to the enrolment tab to find out what you need to do.
College life
Your first few weeks will be filled with new and exciting experiences – from our Freshers' Fair to enrichment clubs and meeting new classmates.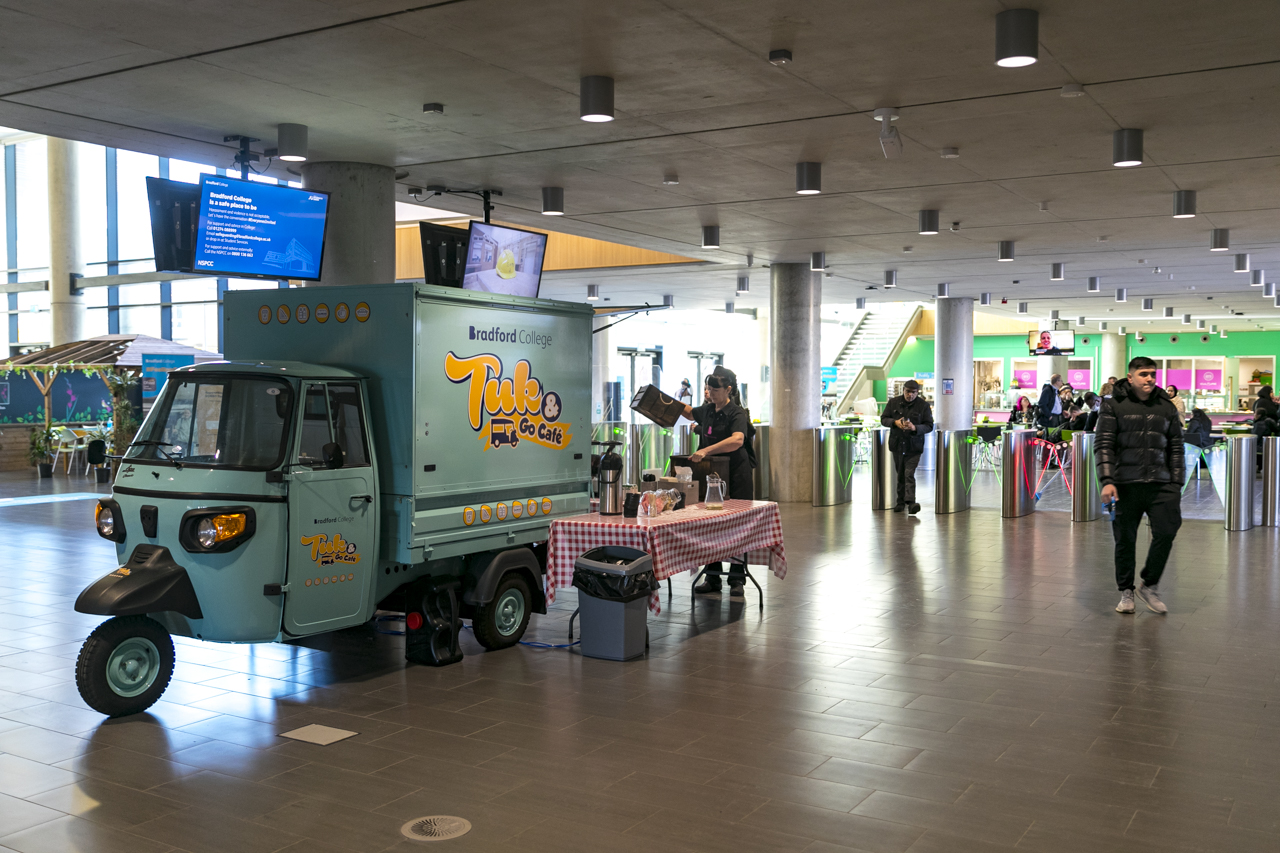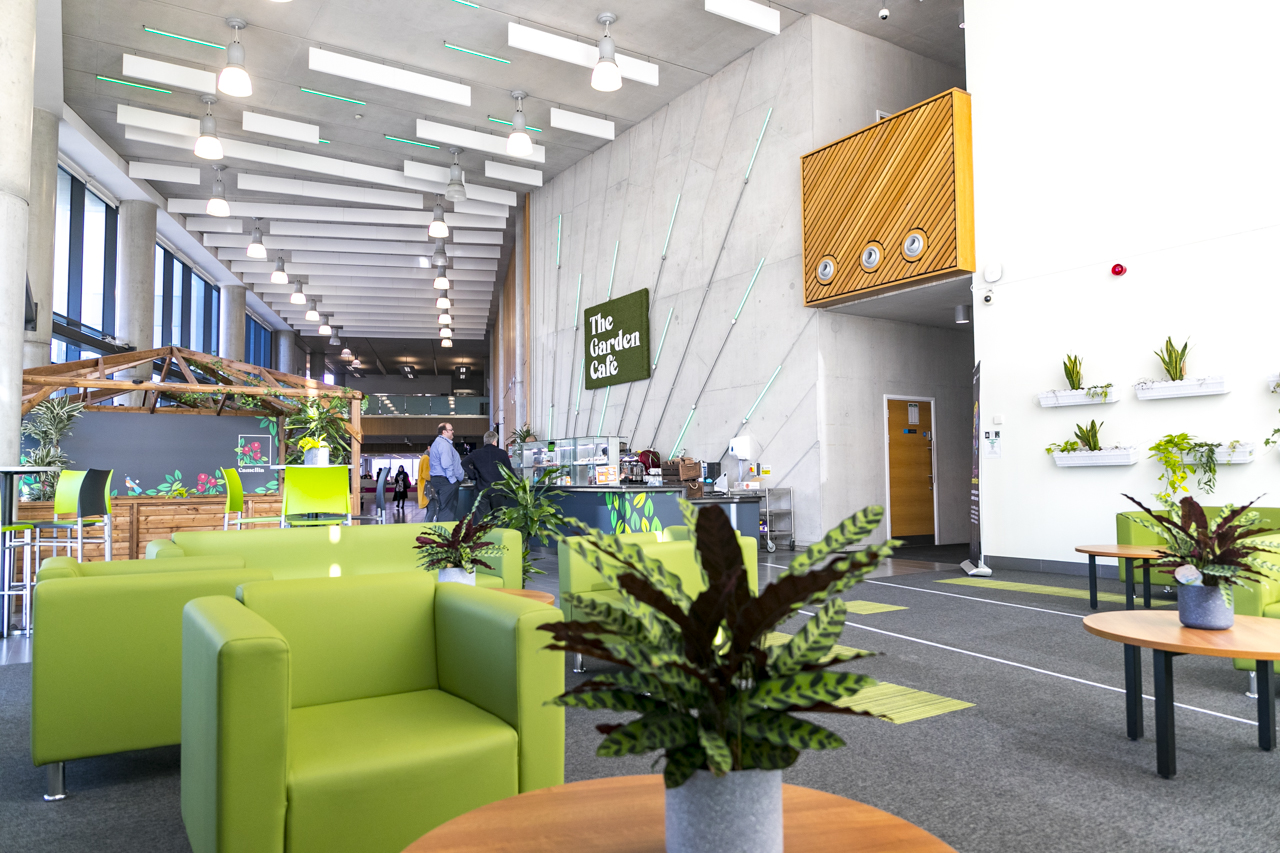 Make sure you kickstart your day the right way – enjoy free breakfast served in the canteen and Tuk&Go Cafe in the Marketplace. There is a range of traditional, vegan and halal options available, all served with optional tea or coffee. The free breakfast is available for all students aged 16-18, please have your student ID with you to claim.
Please make sure that you wear your student ID badge and lanyard at all times to get access to the college buildings.
Lastly, don't worry! Our staff are here to make sure your start at college is as easy and enjoyable as possible.
Arriving at College
Need to find us? Don't worry – our college has great links to public transport.
If you're arriving by bus or train, Bradford Interchange Bus and Train Station is a 12 minute walk from our main campus at the David Hockney Building, just a few steps up from the Alhambra Theatre.
Additionally, if you're travelling from Forster Square, it is just a 15 minute walk.
Our venues
Depending on which course you enrol on, your studies could take place in the David Hockney Building, the Lister Building, the Advanced Technology Centre, Trinity Green Campus or at our Apprenticeships base in Little Germany.
When you arrive at college, don't worry about not knowing where everything is yet! Our friendly staff will help you to get to the right place in our buildings for you to start your course.
Getting set up
In your first few days, we will help you to set up your student log-in so that you can access all the online resources you need. You will also gain access to:
Email – Once you are enrolled, you will need to log in and activate your email account.
Your username will be your 8-digit student/enrolment number followed by, @bradfordcollege.ac.uk
For example, [email protected]
Your password is the first letter of your first name, followed by your date of birth, and finally the first letter of your surname. Each initial will need to be lowercase.
For example, the password for Joseph Bloggs, born 1st September 1995 would be, j010995b.
Moodle – here you can submit your assignments, download resources, track and monitor your progress and send messages directly to you tutor and other learners on your programme.
Library Resources – our Library staff are here to help you find resources both physically and online to support you during your time at college. They can also help with study skills and referencing. Our main library is on the second floor of David Hockney Building. We also have a second library supporting the courses taught at Trinity Green in the Success Centre on the ground floor of Trinity Green.
Quick Links
Finance and Bursary Support
Here at the college, we provide financial support to you while you study with us.
We can offer help with childcare bursaries, teacher training bursaries, free meals and other forms of financial support to help you alongside your education.
If you're 16 – 18 years old or 19+, with a gross household income of less than £30,000 per year, you can receive money to help with your studies.
Students aged 16 to 18
You can receive help with:
Travel costs
Course related expenses e.g. equipment, books and trips
Free meals (for qualifying students)
To receive this help, you must:
be aged 16, 17, or 18
be enrolled and attend a full-time funded course
show evidence of household income/benefits
Students aged 19+
You can receive help with:
Books, uniform, stationary and equipment
Travel costs
Childcare
Exam and tuition fees
Please note, you must attend your classes to meet the attendance criteria for the bursary.
Student Support
Students' Union
Our Students' Union is here to support you and make sure you get the best out of your time as a student. Here you can get involved in a range of clubs and societies and make your thoughts, visions and ideas heard.
Holding regular enrichment activities and events and providing regular volunteering opportunities – there is something for you to get involved in.
As a member of the Students' Union you can claim a free NUS TOTUM Card – entitling you to a range of discounts on selected food and drink, fashion, technology and health and fitness. Depending on the membership type you go for, you'll get access to lots of great student discounts and offers, a legal age ID card and a 12-month digital International Student Identity Card (ISIC) card.
Student Services
Our friendly Student Services Team are here to support you.
Located in the David Hockney Building, they offer careers advice, safeguarding and wellbeing support, student accommodation service and financial support – making sure you feel fully supported during your time with us.
Enrolment
Over the summer you will receive a letter inviting you into the college to enrol. Please make sure you attend at your specified date and time slot to ensure that we can confirm your place on your course.
Don't forget to bring a form of ID with you, and any sort of qualification certificates or documents to confirm your place with us

If you're enrolling onto a degree or higher level qualification, your enrolment process will be part of your induction. You will meet the team, enrol onto the course and find out everything you need to know before you start your studies.

On the day, you will receive your Student Learner Agreement, student timetable and student ID badge and that's it – you're all set to join us!