Outreach and Enrichment for Schools
The Bradford College Student Engagement & Outreach Team deliver activities for young people across Bradford, from primary school through to sixth form and college. We also work with local communities to develop engagement activities.
School Resources
We understand sometimes it can be difficult to schedule outside visits and meetings, so we are more than happy to come to you. Our Student Engagement Officers (SEO) can come along to your venue and assist with:
Assemblies
Careers Fairs
Parents' Evenings
Workshops
Other School Events
College Resources
If you have the opportunity to bring young people out of the school setting, we would love to welcome you to the College. This allows for a real college experience and gives a good overview of Bradford College and its offer.
Campus Tours
Taster Sessions
ESOL Taster Sessions
SEND Taster Sessions
Tours and Events
Bring your students to visit our Bradford College campuses, take part in a taster day, or enjoy a workshop! Our Open Events are a great opportunity for students to explore the College and find a course that's right for them.
Other Resources
Our online Career Coach is a bespoke career mapping tool, perfect for linking career aspirations to education paths. Bradford (and bordering) schools have access to personalised Career Coach links to share with their students.
Get in touch
Each of the Bradford and bordering schools has a dedicated Engagement Officer to help deliver a tailored outreach plan, to meet the needs of your students.
To arrange a tour, event, or outreach activity, contact engage@bradford-college
Widening Participation
Bradford College aims to improve access to education opportunities for students from under-represented groups.
The QUEST Team is here to improve access to Higher Education opportunities at Bradford College. For more information, contact [email protected]
Bradford College is proud to be part of Go Higher West Yorkshire and the UniConnect programme.
You can read more about the groups of students we aim to support in our Bradford College Access and Participation Plan.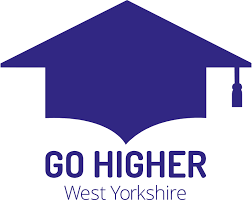 Meet the team
Marie Kay – Outreach, Recruitment and Admissions Manager
Raj Bhardwaj – Senior Engagement Officer
Sarah Faulkner – Senior Engagement Officer
Sanah Ferdous – Higher Education Progression Officer (Uni Connect)
Victoria Joseph – Higher Education Outreach Officer (Uni Connect)
James Bairstow – Higher Education Recruitment and Conversion Officer
Ismah Majid – Higher Education Recruitment and Conversion Officer