Accommodation
Want to live in halls or with a family while you study at Bradford College?
Our student accommodation service can help.
Doris Birdsall Halls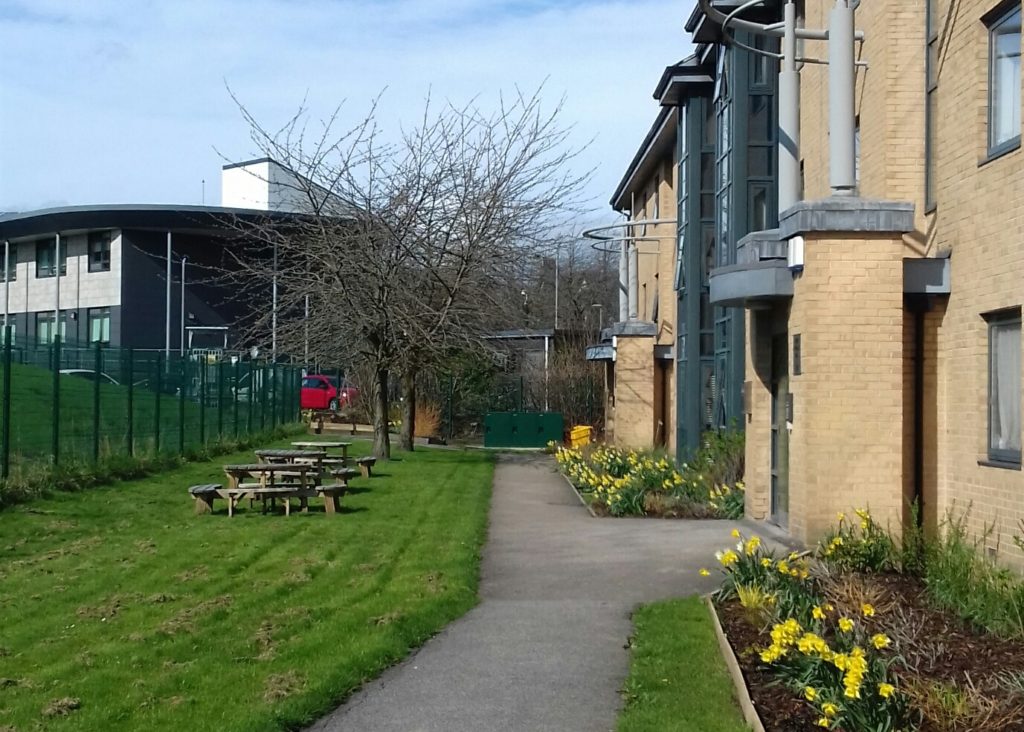 Stay in Doris Birdsall Hall, our main housing for Bradford College students.
With 59 rooms, Doris Birdsall Hall is small and friendly.
It's next to the College's Trinity Green campus, five minutes' walk to the David Hockney Building.
To enquire, please email [email protected] or call 07850462892.
Doris Birdsall rent is £105 per week all inclusive.
Tenancy start date 1st September 2023 and ends 7th July 2024.
Summer stays are 1st July to 29th August at £105 per week all inclusive.
Each bedroom has:
wardrobe
desk
bedside cabinet
desk chair
easy chair
small double bed
lamp
waste bin
bookcase
wifi
notice board
Each bedroom has its own ensuite bathroom with a toilet, washbasin, and shower.
Each flat of four to five rooms has a living area, including a kitchen with enough cupboard space for all students. It has:
cooker
fridge freezer
microwave
ironing board
vacuum cleaner
washer and dryer
seating area with a television
There are student Residence Assistants who live on-site during term time and can help with repairs and other queries.
Doris Birdsall is set within its own secure grounds with a garden and bicycle storage for residents.
CCTV covers the entrances and communal staircases.
Rent is £88 per week all inclusive. Tenancy start date 1 September 2022, end date 30 June 2023.
No deposit, no guarantor.
The rent includes all utility bills, internet and contents insurance.
It also covers the TV licence for the kitchen television, but if you bring your own TV for your bedrooms you will need to buy your own licence.
All rooms are single occupancy.
You will need to bring the following:
bedding

pillows
pillowcases
double duvet
duvet cover
bed sheet

towels
kitchen items

crockery (plate, bowl, mug)
cutlery
cooking pans
washing-up sponge or cloth
tea towel
Most of the kitchen items you need can be bought
Every September or October there is a welcome meal for students staying at Doris Birdsall Hall to help you get to know each other.
You will be responsible for keeping your bedroom and en-suite bathroom clean and tidy. You are also responsible for keeping the kitchen clean and doing your own washing up. The communal staircases and entrances are cleaned weekly.
As some areas in hall are held communally, such as shared kitchens and hallways, you are responsible for caring for these areas and not causing damage.
You are free to go out and socialise when you wish, but we do ask you to remember that you are part of a community when living in halls and that you should enter/leave halls quietly, especially at night.
If you would like to share with a friend, please mention their name when you apply and we will try to accommodate your request. It helps if you apply at the same time.
Unipol Student Homes run Doris Birdsall Halls. For more information about Unipol visit their website.
A++. Have recommended to multiple friends and plan to stay here for the next year at least.
Amazing experience living at Doris Birdsall these last three years. Warm, friendly and pleasant atmosphere really made me feel more at home.
Homestay
If you want a supportive home to live in while you study, or you want to improve your English, you can apply for Homestay accommodation.
If you're under 18 at the start of your course, it's normal to use Homestay.
You will live in an English-speaking home, so you can improve your English language skills and immerse yourself in English culture.
You will be expected to live as part of the family, sharing mealtimes and taking part in home life.
The average home in the UK has three bedrooms.
You will have:
a private bedroom with a bed, study desk and clothes storage space
access to the house bathroom – it's rare to have a private bathroom
Your Homestay host will discuss any house rules with you to avoid misunderstandings or problems.
Rules may include not smoking in the house, or being home by a certain time at night.
There may be other students living in the same house, but we try not to put students of the same nationality or language together.
In the evening you can spend time with the family – watching television, eating, talking), meet friends or study in your room.
Your Homestay host will normally do your laundry, but not ironing.
All Homestay homes are within 30 minutes walk or travel by public transport to the College.
We have good public transport links in and around Bradford, and most students walk to College or get the bus.
You can buy a student bus pass for about £30 per month.
In the UK, it's normal for everyone to help look after the home.
It is not common to have any domestic help such as a maid or cleaner.
Your Homestay won't expect you to do any major cleaning, but you will need to:
tidy your bedroom
get your laundry ready for washing
clean the bathroom after you have used it
tidy away items you have left around the house
clear away any food or snacks you prepare
From time to time your Homestay might ask you to take part in other tasks around the home too, which you should see as a chance to experience everyday life in the UK.
When you are assigned a Homestay, we will give you some basic background details and their contact details.
It is a good idea to write or email them before you arrive to introduce yourself.
This is a chance to get to know your Homestay a little before you arrive – you could tell them where you are from, what you like to do, and what you are looking forward to about staying in Bradford.
Half board includes breakfast and an evening meal from Monday to Friday and all meals at weekends.
You will need to provide your own lunch and snacks during the week.
Some Homestays will be able to cater for dietary needs – please add these to your booking form.
You should expect to stay for at least one term, with most students staying around one year.
The rent does not usually include use of the house telephone, and you are encouraged to buy your own mobile phone when you arrive.
Rents for the 2023/24 academic year were £100 per week (half-board)
Apply for Homestay
Ask for an application form:
They will then try to match your needs with a suitable Homestay provider.