The Duke gives students a glimpse into film world
It's the British comedy thousands of film fans have been waiting for – The Duke, starring screen legends Jim Broadbent and Helen Mirren.
As people finally settle into cinemas to watch the movie, they will be watching a film brought into creation with support from Bradford School of Art.
A group of BA (Hons) Media Make Up With Special Effects for the Creative Industries students had the chance to help out on the film set, supporting make-up artists. Meanwhile, the Old Building formed part of the set when filming took place in early 2020, with parts of it housing costumes and make-up.
Nathan Kelly is Head of Arts and Creative Industries at the Bradford School of Art, part of the Bradford College family. He said: "It was a fantastic opportunity for our students to be part of a British film history and gain a glimpse into Yorkshire's film and TV industry."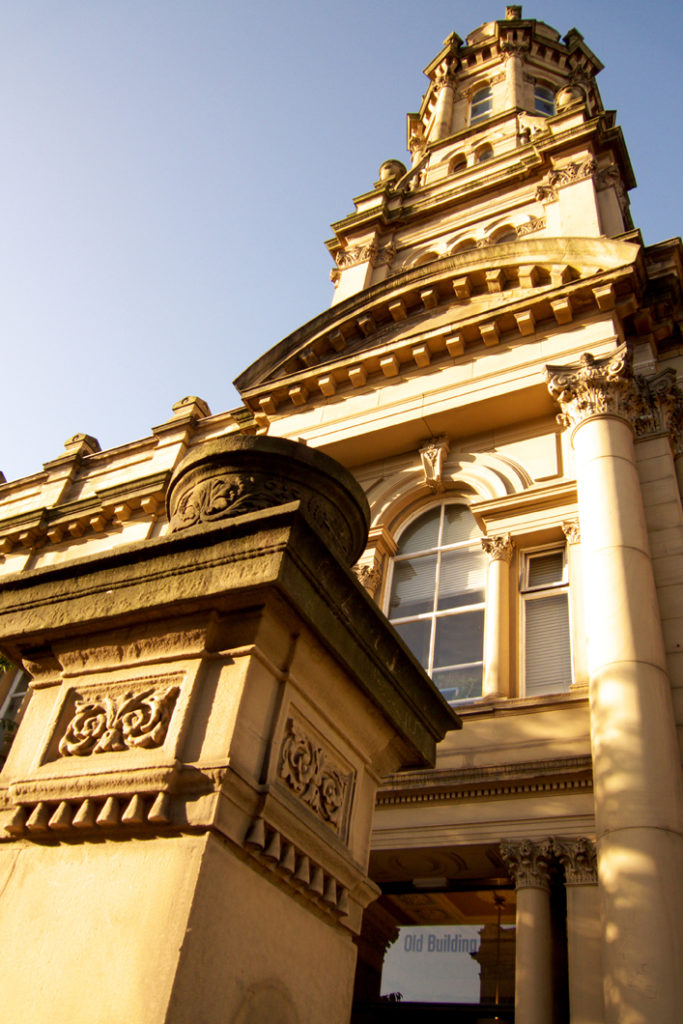 A day on a film set
He added: "The Duke was brilliant for us because the work our students did can form part of their CV. This helps develop the skills pipeline, creating jobs and enabling our students to remain in Yorkshire and find jobs in the region's creative industry."
Ashleigh Jacques was among students who gained a day's work experience on the set of the film. She said: "As soon as I heard about it I thought it would be a really good opportunity.
"To work on something with big names as that, it was brilliant!
"It's not all eyelashes and big hair"
However, Ashleigh soon discovered it was not all glamour. She said: "We had a very early start, and for the first few hours we were getting coffee and tea made. It was dark and cold outside in the early mornings and nobody could survive without a cuppa!
"It was absolutely freezing in that building! It's not all false eyelashes and big hair.
"You've got to know who's in charge and be ready to take orders to make sure everything runs smoothly and on time.
"I don't think I had a cup of tea for about six hours and I'm one of those people who drinks tea constantly!"
A long day but a good day
It was hard work, but varied. Ashleigh said: "I was assisting the other make-up artists. This meant making sure everybody's work station was tidy for them, cleaning make-up brushes and handing hairgrips to people. I had to make sure they had exactly what they needed. As well as working at the Old Building, I was able to go down onto the set when they were filming at Bradford Town Hall.
"It was a good day and a long day!"
Transferrable skills for the industry
Ceri Lewis, Programme Leader for the BA Media Make up degree, said: "The whole experience was really good for the students on set. Being there, seeing it all set up. Sometimes it was just watching, observing, doing menial manual tasks, but it opened up a horizon. You learn an awful lot about wigs, costumes and dresses.
"The students are learning transferrable skills, not just technical skills. It has helped them gain experience of being on set and see how it works. So when they do get roles on sets in future, they're not taken aback by directors' orders."
Bradford School of Art's BA (Hons) degree in Make-up with Special Effects for the Creative Industries has been endorsed by Screen Skills, the industry body for career development and training in the film, TV, animation and games industry. This means, after a rigorous accreditation process and months of assessment, this degree has officially been recognised as providing industry-standard training and education.
Getting camera ready
The School's connections within Yorkshire's film and TV industries ensure that students are ready to work within that sector as well as provide opportunities such as working on film sets.
It is one of the founding colleges of Connected Campus, a consortium of colleges launched by Screen Yorkshire in February 2021 to make the creative industries more accessible to young people in the region. The School of Art has also supported the production of shows including Gunpowder, The Syndicate and Ackley Bridge.
About Bradford School of Art
Could you be part of Yorkshire's next generation of screen and TV talent? Could Bradford School of Art help you on your way?
Bradford School of Art is a traditional art school with contemporary teaching methods and innovative industry practices. For over 100 years it has provided an inspiring, illuminating, and supportive learning environment for budding artists, designers, musicians, performers and other creative professionals.
Visit https://www.bradfordcollege.ac.uk/about-the-bradford-school-of-art/