Immerse yourself in MA Visual Arts Exhibition
Desire, religion, feminism, gender and femininity are just some of the themes explored in creative works by Masters Degree students at Bradford School of Art.
The MA in Visual Arts exhibition 2022 is now on at the Dye House Gallery at Bradford College's Lister Building. Running from now until 3 February 2022, art lovers have the chance to view a variety of thought-provoking works.
The pieces vary from poems through to collages and paintings. All have been created by people studying for a Masters Degree in Visual Arts. Lecturer Carole Griffiths said: "The students, throughout the past two years of Covid, have completed their course through difficult times and their work needs to be celebrated.
"Well done to the students showing their work: Charlene Glover, Dionne Hood, Emma Render, Rachel Hoodless, Shannon O'Reilly, Saira Baig, Farhana Khan, Lauren-Faith Westerman and Anna Czarniecka."
Questioning ideology
Moth Baby by Dionne Hood uses a variety of media including oil paintings and poems. The work explores the personal effect of a Catholic upbringing, the all-encompassing ideology that infiltrates all areas of life and what happens when people question this immersive ideology. It explores this questioning as, in Dionne's words: "… a response to events, happenings, the behaviour of others and ways of being that are not, or should not be part of, that ideology – the secrets, hidden experiences and actions that don't fit within the parameters of the teachings of the Catholic faith."
Charlene Glover has produced Systemic Clutter. Her practice explores how attachment creates simultaneous forms of structure and chaos. It then opens a discussion on the interplay between conflict and collaboration.
Structure and chaos
The work considers external structures such as the domestic and societal. It also looks at internal structures such as adherence to thoughts, rituals, routines, processes and regulations. Charlene said: "I look upon these works as representations of how structure and chaos can both be conflicting and collaborative, raising the question: Can one survive without the other?"
Saira Baig's work, the Manipulation of Nature, brings together textiles, screen printing, linocut and hand embroidery. The result is the distortion of the natural forms of age rings in trees, with some becoming unrecognisable. Saira explained: "I have used these materials to represent the manipulation and damage of nature by humans. It is a commentary on how deforestation is destroying important ecosystems and how trees are being forced to adapt and live amongst us, stripping them of the connectivity and environments they need to thrive.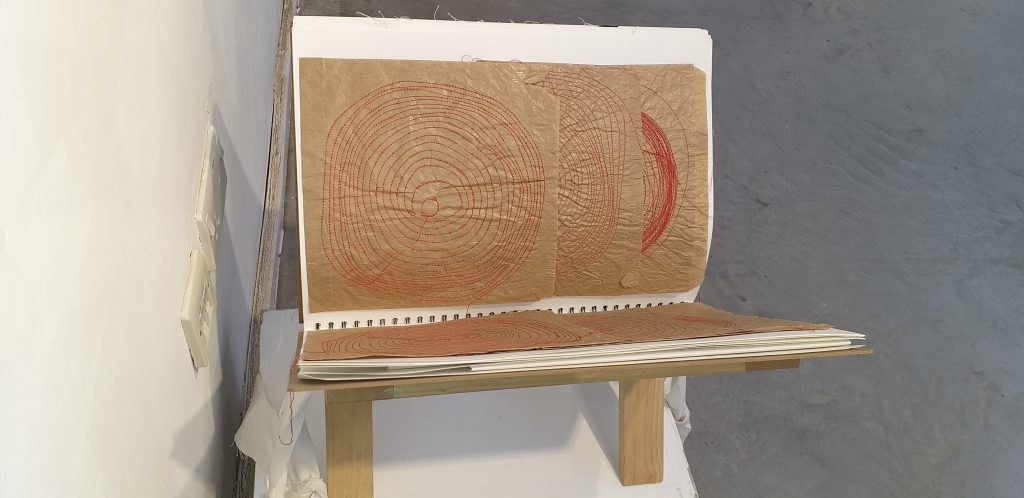 "If what I know of desire is true, then I shall pray for me and for you …"
Rachel Hoodless' collection, Desire, is a collection of work representing desire, showing such imagery as flames and the female form. It is accompanied by a poem: "If what I know of desire is true, then I shall pray for me and for you …"
Lauren-Faith Westerman has produced From the Body to the Ghost: A study of the self, within the container. The themes explored within the display are suggested through drawings of familiar objects within the home. These represent the temporality within existence. Lauren-Faith explained: "The key subjects will be focusing on cover projection of memory, intimate space, longing and ideas of projection. I will discuss themes of intimate relationships and temporality to form my own ideas."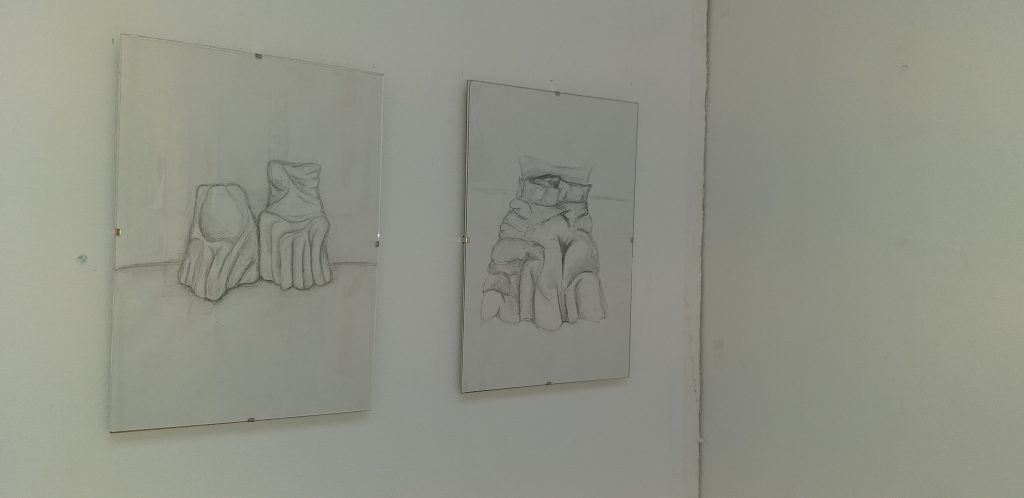 Shannon O'Reilly's work explores the gender spectrum and expressions of masculinity and femininity that don't conform to what society deems the norm. Shannon said: "I've focused on merging both the masculine and the feminine together in order to have a more authentic version of oneself."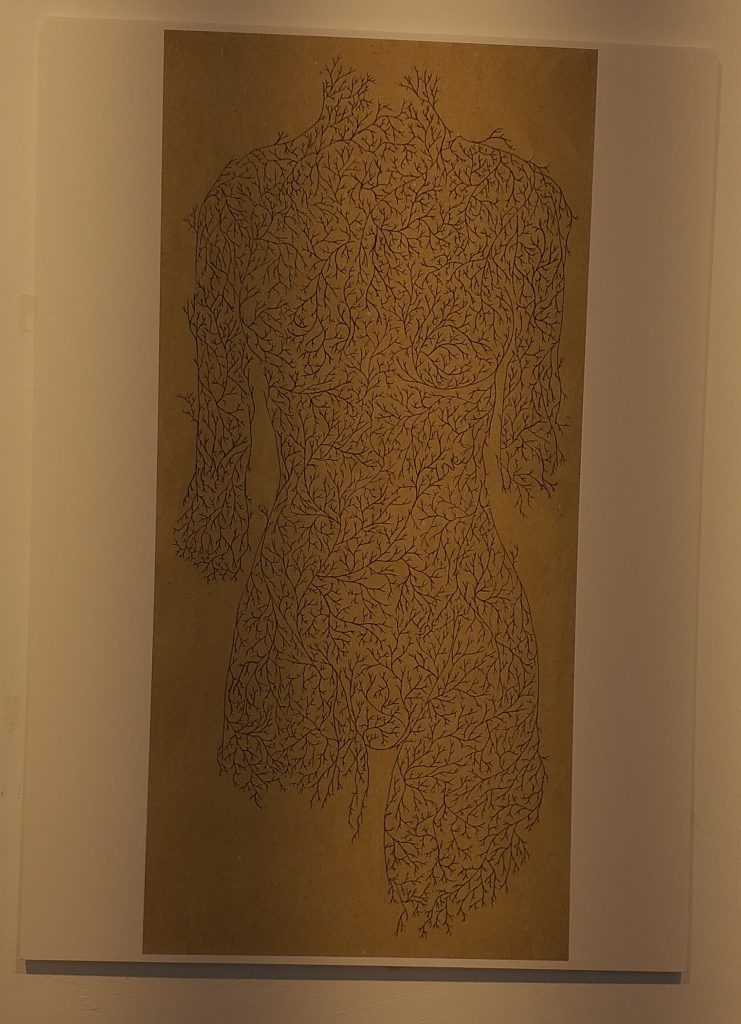 Mutilated beauty
Farhana Khan's project is entitled Mutilated Beauty: The dismantling of the subculture. Farhana said: "Originally, I had intended to explore an in-depth look into the subject of botched surgery; however, as I started to include my artist as well as contextual research, it became clear that the work was taking a different direction by reintroducing topics I had already analysed such as slender body type, diet culture and social media."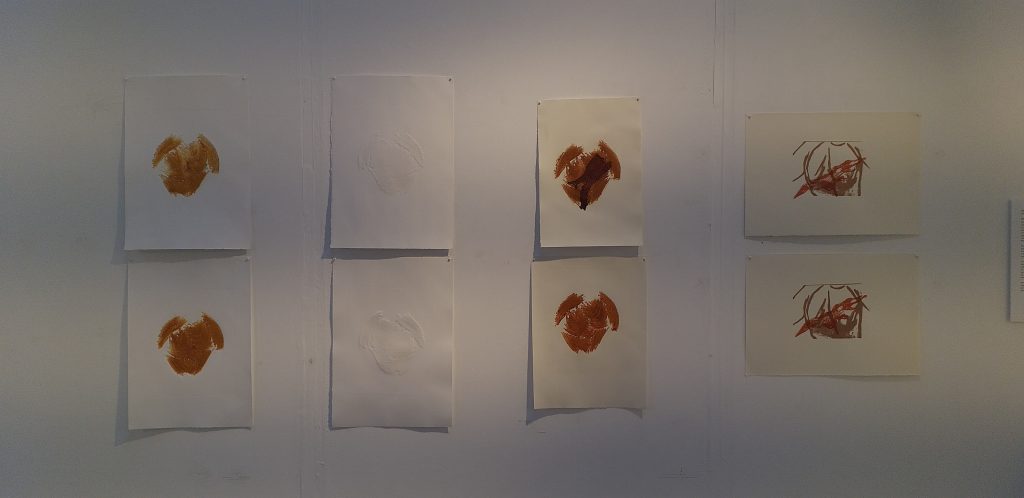 Her work also looks at issues such as body dysmorphia. It also examines the harmful impact of the perfect female physique, unattainable yet constantly shown as desirable in popular culture.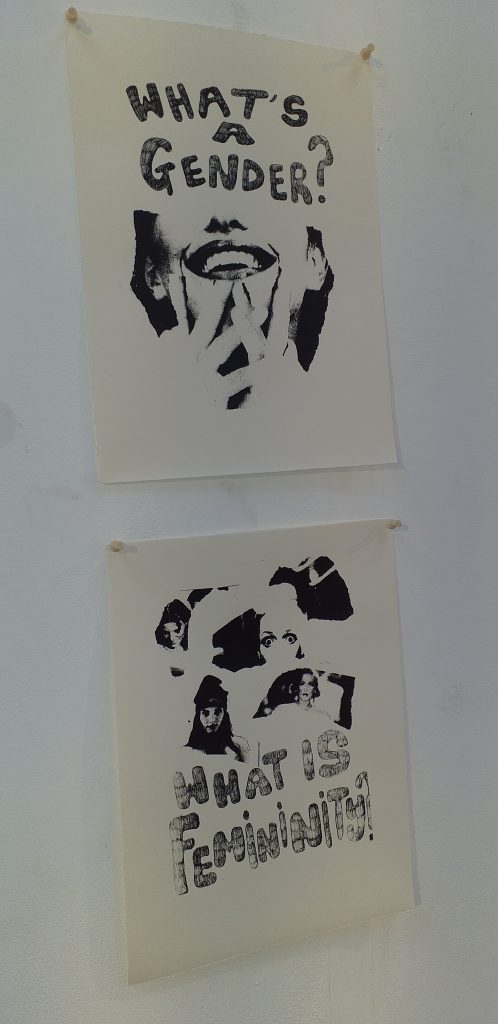 Emma Render's work explores the joining of life and death through the concept of celebrating the passing and honouring of the deceased in Japanese traditions.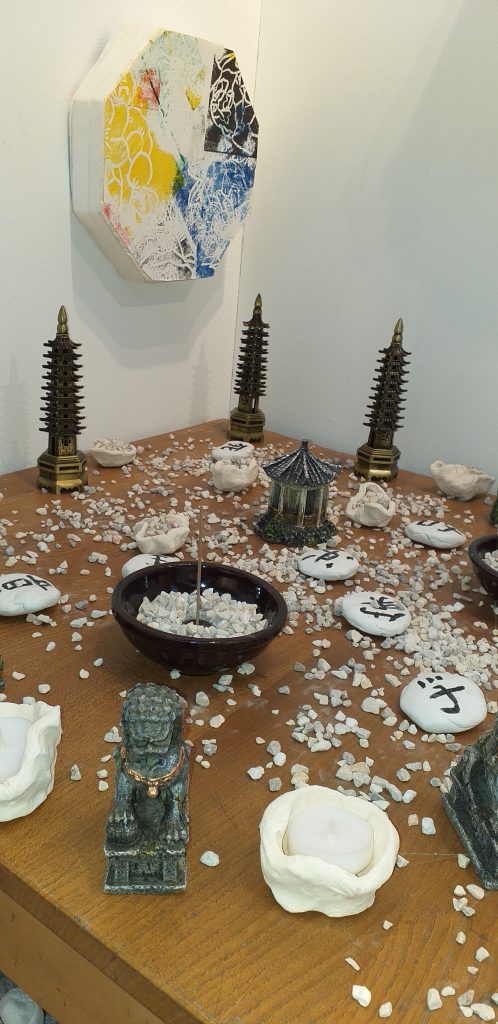 The dissolution of the ego
Anna Czarniecka presents 'the dissolving ego'. This includes a series of transformations of objects – faces – whereby the juxtaposing of a transformation process presents the dissolution of the ego and the renewal process. However, it is also there to influence the viewer through individual interpretation. Anna said: "This series is special to me because I express my own transformation process, it is a very personal experience that I have translated into an art form."
The School of Art is planning a bigger show to celebrate the students' achievements in April.

MA Visual Arts at Bradford School of Art
The part-time MA Visual Arts course at Bradford School of Art, part of the Bradford College family, offers the opportunity to explore the boundaries of contemporary visual arts practice across a range of media. Students use, for example, 2D/3D Media, Printmaking, Photographic Arts, Ceramics, Sculpture, Drawing, Painting, Digital Arts and Critical Theory.
The self-initiated character of this course will equip students for a wide range of potential career pathways.
For more information visit https://www.bradfordcollege.ac.uk/courses/course/visual-arts-ma-2/