Bradford College Fashion Department launches Bull Girl
The Bradford College Fashion Department has helped the Bradford Bulls launch their new Bull Girl mascot as part of our ongoing partnership. Over the weekend, Bradford Bulls fans set their alarm at 10am for the big reveal of "Bull Girl" who made her first official appearance at Odsal Stadium during the Bradford Bulls vs Batley Bulldogs game on Sunday.
---
The Fashion teaching team worked tirelessly planning, designing and creating the costume to bring the vision to life over the past eight weeks.
From the very beginning, the Bulls allowed the Fashion department to take full control of the creative direction.
Sylvia Devanney, Design Technician, took a lead role in bringing Bull Girl to life. "I really loved working on this project, I would say this has been my favourite project to date.
"From the very beginning, I could envision what I wanted her to look like and she turned out just how I imagined. The process began from creating a sketch from the ideas I had bubbling in my head and from there I began creating the design. I knew I wanted Bull Girl to have female characteristics such as eyelashes, earrings and a bow which I created in coloured fabrics representing the Bulls. My favourite part about creating Bull Girl was creating the muscles.
It was fantastic to be given the freedom to design Bull Girl and work closely with the Bulls team to bring both our visions to life. It is a privilege to give young girls and boys a female mascot to look up to and play my part into shaping inclusivity."
Sylvia has been a fashion designer throughout her whole working life and is completely self-taught. She has worked at London Fashion Week for many years and has had many of her designs showcased on the catwalk.
The idea for Bull Girl came at the end of 2022 when the Bulls wanted to promote inclusivity and diversity as a club.
Bradford Bulls Media & Marketing Manager, Luke Mawson, explains: "Towards the back end of 2022, we looked at where we felt we could be more inclusive as a club and having a female mascot was an opportunity for us to show our values and beliefs, that anyone is welcome at the Bradford Bulls and Odsal Stadium and there is no such thing thing as exclusion.
"We sat down with the team at Bradford College, who have done a remarkable job in producing 'Bull Girl' in such a short space of time, she looks terrific. A huge thanks to everyone in the Fashion department at Bradford College for their hard work and endeavour to bring Bull Girl to fruition."
Ian Stafford, Bradford Bulls' Commercial Manager, who has formed a close partnership with Bradford College, said: "The team at Bradford College have been terrific with their support ever since the partnership was formed forwards the end of last year.
"They have worked tirelessly to get Bull Girl ready for her grand reveal and we cannot thank the talented team in the Fashion department enough."
ACS Group have become Bull Girl's first ever sponsor. You can catch Bull Girl in action next as the Bradford Bulls host Swinton Lions on Sunday 14th May.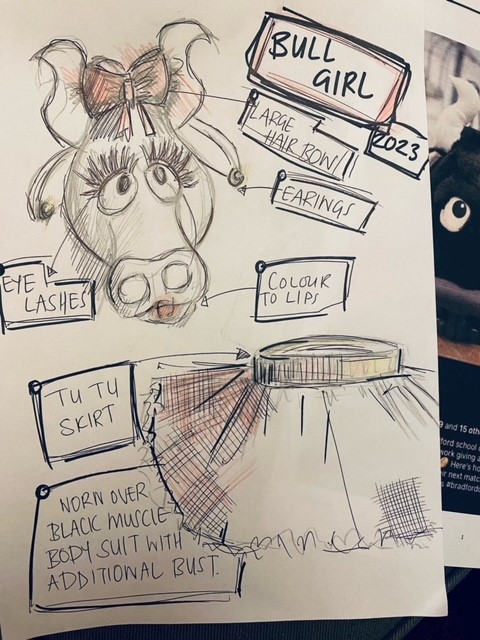 Published: 20th April 2023
by Bradford College
Categories
Tags
Latest Articles
Press Office
Got a story for us or want to get in touch with our media and marketing team?