Sportswoman awarded for Outstanding Achievement
A brilliant young athlete who helped set up a sports council for her fellow students and has devoted much of her time at college to equality, diversity and inclusion has won an award for outstanding achievement.
Amy Alinson was recognised for Outstanding Contribution at Bradford College's FE Student and Apprenticeship Awards.
College sport coach Farook Khan said: "Amy is the best student we've known for the last 10 years. She's achieved the highest possible grades during her time with us and has now become a member of college staff."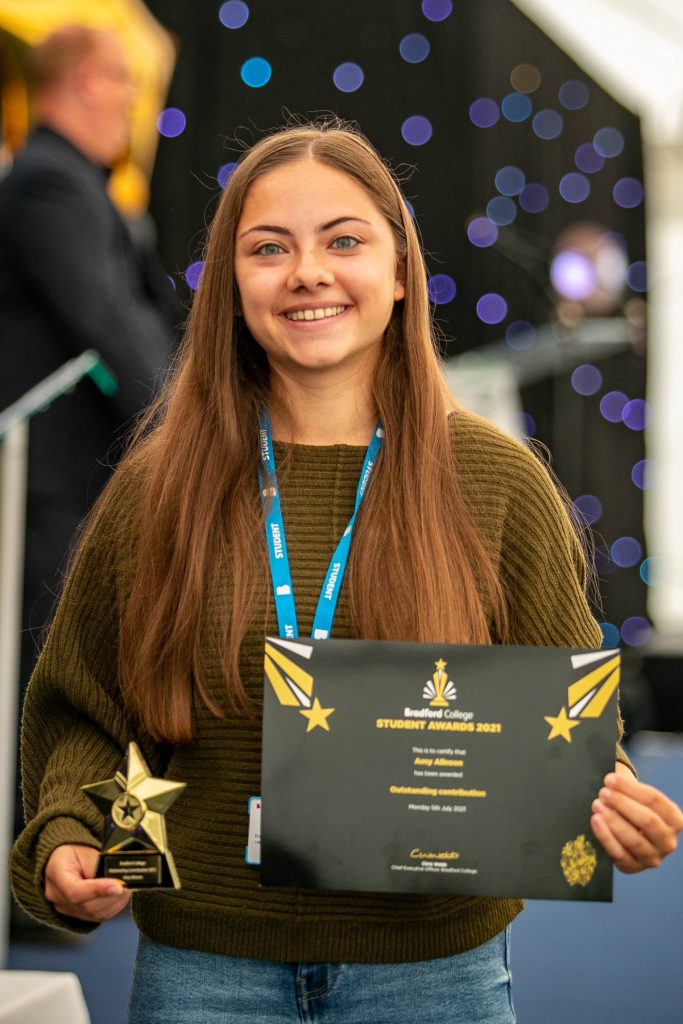 Three Distinction Stars for Amy
Amy, 18, has been studying Sport at Bradford College for two years, achieving three Distinction Stars on her BTec Extended Diploma in Sport. Her tutors put her forward for the awards, in which more than 100 students across a variety of subjects were recognised for exceptional effort and achievement.
Announcing the award at the ceremony, Beverly Fox, Head of Department for Professional and Leisure Services, said: "Amy has always gone over and beyond what is expected of a student and as a result has exceeded our expectations and become a role model for others to follow in her footsteps."
A Young Leader
As well as attending weekly gym sessions, Amy has taken an active role as a Young Leader in the Unified Action project, a sport-based programme led by the Youth Sports Trust. The programme, funded by the Ministry of Housing, Communities and Local Government (MHCLG), connects young people with their communities, creates greater diversity in sports governance and civil society, and ensures young people's voices are heard.
As well as acting as a representative for her course, Amy has taken on a role as Equality Diversity and Inclusion Officer for the Students' Union. As part of this programme Amy developed self-confidence and speaking skills. She regularly spoke to an online audience of more than 100 as part of the programme.
Furthermore, Amy has played a pivotal role in the creation of a new student sport council set to be created next Spring. The council is aimed at getting more students into healthy living activities.
Amy explained: "My main focus was sport and I really wanted to push that.
Supporting women in sport
"I made a presentation on women in sport and stereotypes around them. I really feel proud to be part of it and I'm excited to see what happens."
Amy, who attended St Bede's and St Joseph's Catholic College in Bradford, said: "I have always liked to be active, I've been a dancer since I was five and I play local club level netball in a West Yorkshire league. I did this all through school and I always wanted to do something with sport.
"Sport was always my favourite lesson. When I was at school I helped out at the PE office and also completed a work experience placement there as part of my college course.
"I've always found exams quite stressful and I knew at Bradford College I could study the one thing I really wanted to do in a way that suited my style of learning. It's such a nice environment as well.
"I loved all the practical elements of my course. I spoke to other people who are passionate about sport. It kept me motivated, being in a group of similar people."
Amy is now looking forward to studying at Leeds Beckett University from September and is hoping to pass on her passion for sport, becoming a PE teacher in the future.
Sport and Physical Activity at Bradford College
At Bradford College you can turn your passion for sport, exercise or fitness into a career.
The courses offer the opportunity to work with young people, community groups and the public.
At Bradford College, you will learn and play in the same gym, courts and pitches as professional athletes – including Olympians.
Find out more about sports courses at https://www.bradfordcollege.ac.uk/courses/subject-area/sport-and-physical-activity/