Achievements celebrated on unforgettable day for Class of 2021
"The ceremony today may feel like an ending but it is truly the beginning of the next stage of your life adventure."
The atmosphere was buzzing at Bradford's St George's Hall as hundreds of people united with friends and family to celebrate their graduation from Bradford College on Tuesday (30 November 2021).
Collecting her BA (Hons) in Counselling and Psychology in Community Settings, Kuldip Rai called out to the assembled students: "I did it!"
A special day
Opening proceedings, Chair of Governors Cath Orange said: "Today is a special day for you and graduands as well as for us at Bradford College as we celebrate your ambition, your hard work and your success. We are very proud of you. It takes dedication, persistence and serious study to get this far and you really deserve it. We hope you will take many fond memories of Bradford and Bradford College with you as you move forward into your chosen field."
Some students took the opportunity to pay tribute to the staff who have supported them throughout their studies. Others thanked their families.
Among those receiving their degree certificates was mother-of-seven Sarah Hussain Khan, who has graduated with a Foundation Degree in Law and Legal Practice. She said: "My family are very supportive and they are so proud of me, now they want to make me proud too!
"I'm determined to work hard for the next year as I work towards my Honours Degree and achieve a First."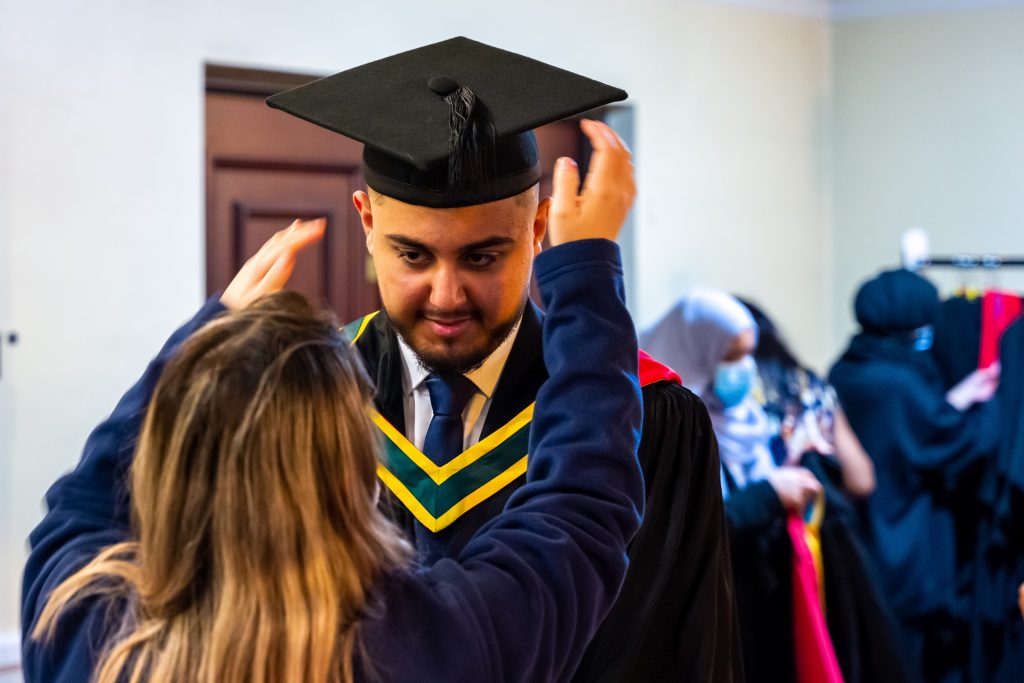 "Seeing my Mum so proud makes it worth it"
Today Brooke Coe graduates with a BA (Hons) degree in Fashion. Brooke, who was among students who put together an incredible Fashion Show at the end of her final year, is the first person in her family to gain a BA degree. She said: "Seeing my mum so proud of me makes it all worth it."
Jada Hill, AKA R&B, soul and op artist Ms Wisdom, graduated with a BA Hons degree in Music for the Creative Industries this year. She said: "I knew that it was something that would encourage me to push myself in other areas and would give me the tools to expand my knowledge of the music industry, so that I could continue developing after leaving education."
Martin Mortimer and James Boyes graduated with BSc Degrees in Construction Management. In July 2020 they both gained recognition for Outstanding Achievement from the Chartered Institute of Building.
"Follow your dreams and dream big"
Beth Menzies, who has achieved a Visual Arts degree, said she had made lasting friendships. She is now studying to be an art teacher at Bradford College. She said: "Follow your dreams and dream big, and never ever give up on those dreams because stepping into a profession that is your passion is stepping into your destiny. Everyone has got something they are good at, a core passion. Be brave, you got this."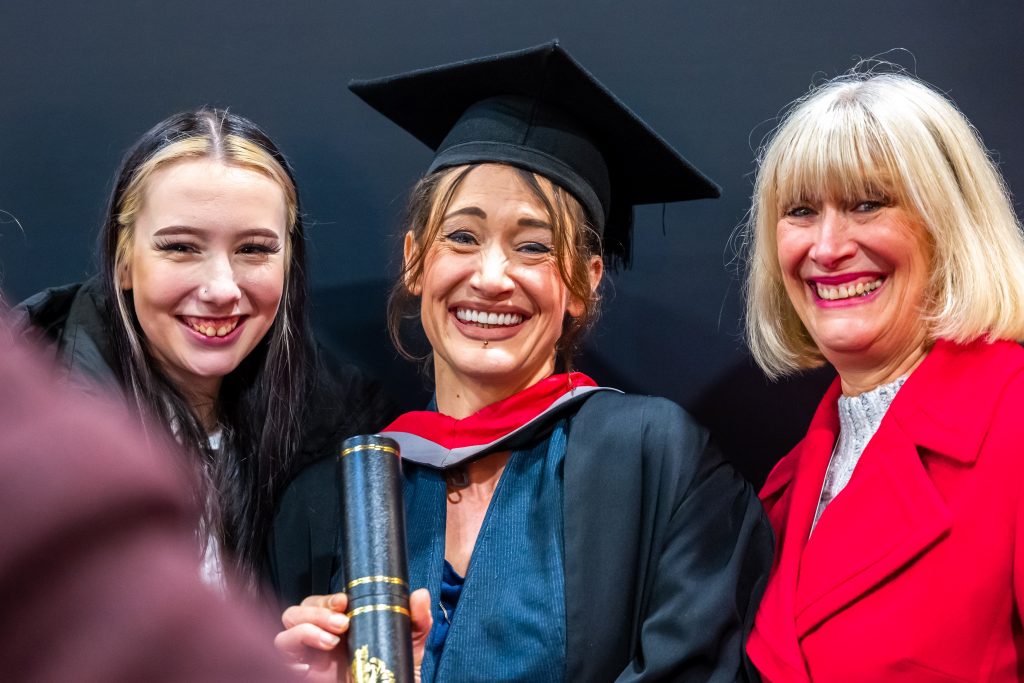 Bradford College honours Bori Benko
Bradford College honoured student Borbala 'Bori' Benko, who sadly died on 21 November. Bori had been due to graduate with a BA (Hons) Degree in Supporting and Managing Learning in Education.
Friends and family of Bori listened as Lecturer Debbie Rolls read a speech at the evening Graduation Ceremony. She said: "We are proud that Bori studied with us at Bradford College. We are deeply saddened that she is no longer with us. She radiated joy, concern for others and had a real passion for working with children.
"Today Bori should have graduated. It is fitting that we use this opportunity to celebrate her life. To travel to a new country and complete a degree is an accomplishment in itself. On her journey to degree status Bori enriched the lives of many others as well as developing new learning and skills.
"Bori was a truly beautiful person, one of those rare people whose presence lit up the room."
Debbie added: "Our thoughts are with the family, friends, students, tutors, colleagues, parents and children who are grieving for Bori, but we know that she would want to celebrate everyone's achievements here today, and we should celebrate hers."
Published: 2nd December 2021
by Bradford College
Categories
Latest Articles
Press Office
Got a story for us or want to get in touch with our media and marketing team?