BA (Hons) (Top-up) Performance
Qualification Gained
BA (Hons) (Top-up) Performance (awarded by the University of Bolton)
Study Level
University, Level 6
Duration
1 year Full-time, 2 years Part-time
Start Date
September 2023
Study Mode
Full-time or Part-time
Location
Lister Building
Overview
This Level 6 Top-up programme is designed to allow both students from a prior approved qualification and applicants with relevant experience to progress to an honours level degree
The programme is delivered by experienced practicing Performing Arts professionals and academics who have a wide range of skills and relevant industry experience in TV, Film and Theatre. For example, working with ITV, BBC, Channel 4, Sky, The Bolton Octagon, The Royal Exchange in Manchester and The Lawrence Batley in Huddersfield.
The programme builds on your previous learning and experience, giving you the opportunity to produce work of a professional standard within your Performing Arts specialism.
Key Info
The programme prepares you for the reality of a challenging and competitive industry. It gives you a range of experiences and roles to fully prepare you for a portfolio career in the Performing Arts.
You will have the opportunity to work collaboratively across different disciplines, creating a professional and vocational experience. For example, this could include music students, as part of a Musical and Film, Media and Media Make-up students on film projects.
Students in their final year will perform in a 'Showcase' which they plan and organise and invite industry professionals. This potentially gives students the opportunity to meet and perform in front of agents and casting directors as well as other industry contacts, possibly in an external venue.
The programme offers a range of opportunities to enhance your learning. For example, overseas trips, visiting guest lecturers, live performance opportunities and professional commissions.
Full-time route:
Semester 1:
Advanced Creative Practice
Individual Case Study
Freelance Working and Self Employment in the Creative Industries
Semester 2:
Part-time route:
Year 1:
Semester 1:
Advanced Creative Practice
Semester 2:
Year 2:
Semester 1:
Freelance Working and Self Employment in the Creative Industries
Semester 2:
Entry to this course requires 80 UCAS tariff points.
T Level qualifications are accepted, a T Level PASS with a minimum of a grade A*-C (equates to 96 UCAS points).
Additionally, you may need an FdA qualification in Performing Arts or a related discipline or 120 credits at NQF Level 4/5 or equivalent.
We also consider individual applicants who can demonstrate relevant learning, work/voluntary experience, using our Recognition of Prior Learning process. Please contact the admission team for further information and support.
Assessment has many forms, including assessment of a performance, vlog, blog, essay, presentation, viva voce or portfolio. Across the programme a range of assessment formats will be used, reflecting the nature of the module (theory or practical) and to account for different learning styles.
Bradford College was the first FE/HE college to be a Lead Associate School for the Royal Shakespeare Company, offering opportunities to work and train with the RSC. Students will be given the opportunity to participate in projects with the Performing Arts Graduate Theatre Company, offering a bridge into the industry.
The department has significant partnerships with local venues, companies and organisations to ensure that professional experience is embedded within your programme
The course will develop skills, knowledge and experience of performance in order to become a successful practitioner within the performing arts industry and other related fields. It will enhance employability within the creative industries by promoting a collaborative approach to teaching and learning across different disciplines.
Ultimately the course will enable students to become a capable and well-rounded Performance graduate who will make a contribution to the performance indsutry having developed appropriate knowledge and specialist skills.
Below are some examples of job roles the qualifications could lead to:
Performing Arts: TV and Film Actor, Voice Over Artist, Musical Theatre Performer, Theatre Practitioner, Writer, Director, Theatre Producer, Stand-up Comedian, TV Presenter, Radio DJ, Content Creator.
Education: Workshop Leader, Facilitator, Creative Education Content Creator, Theatre Outreach Officer.
Other: Theatre Marketing Assistant, Programmer, Booking Coordinator, Production Manager, Creative Engagement Officer, Box Office Manager.
Full-time: £9,000. Part-time: £875 per 20 credits. Additional fees: Trips/visits £500 maximum (optional).
This is representative of the most common fees scenario, but actual fees can vary depending on a number of factors. Please contact us if you need more guidance.
Our Students Say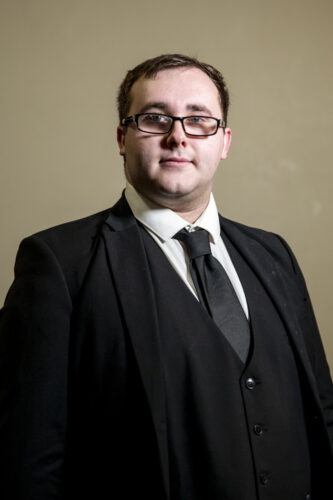 I'm currently a freelance theatre technician, but I've also got various acting jobs at Channel 4 and BBC. The course may give them that edge they need to progress further into the industry, such as get them on stage, get them noticed by arts organizations throughout Bradford.
Bradley Cook-Pattinson
Former BA (Hons) Performance Student

Disclaimer: Our prospectus, college documents and website are simply here to offer a guide. We accept no liability for any inaccurate statements and are not responsible for any negative outcomes if you rely on an inaccurate statement. We reserve the right to withdraw any programmes or service at any time.