Matthew Turner is 2021 Patron's Award winner at Festival of Learning Awards
"I wanted the same opportunities as those without a learning difficulty" – National Learning Award presented to man with learning difficulty who restarted education in his thirties
During his time in education and early career, Matthew's autism has held him back. It was in his early thirties that he took a leap of faith, applying for college before progressing onto further learning to help him look for a job within the travel and tourism industry.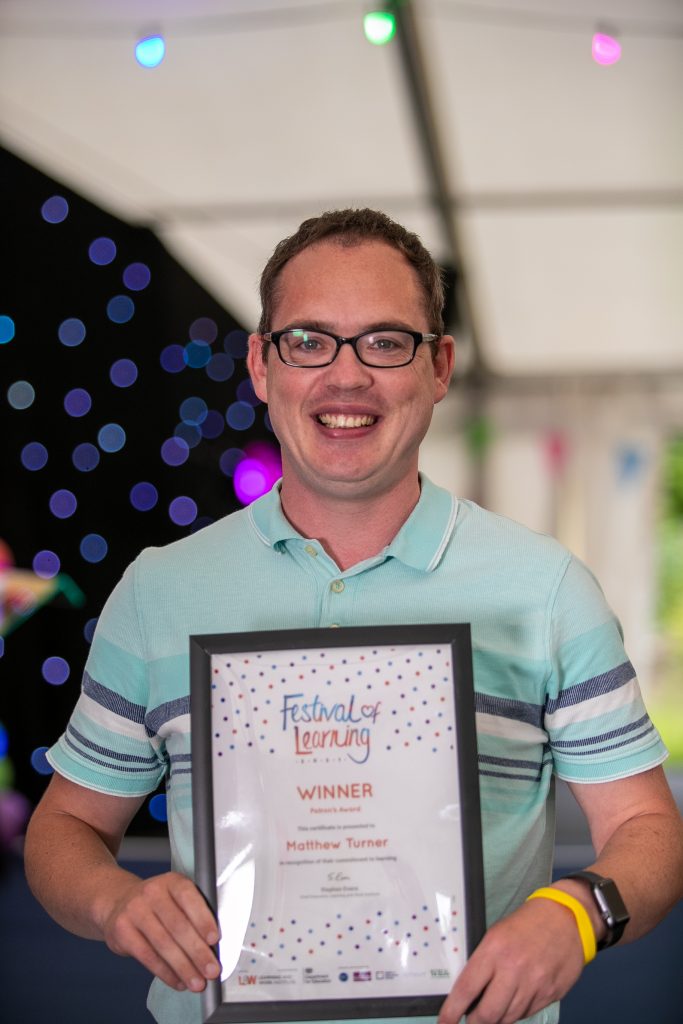 Matthew's difficult experiences of early education and a lack of qualifications left him struggling to find a job in his early thirties. Becoming increasingly frustrated but with a belief in his own capability, Matthew enrolled in a level 1 travel and tourism course at Bradford College.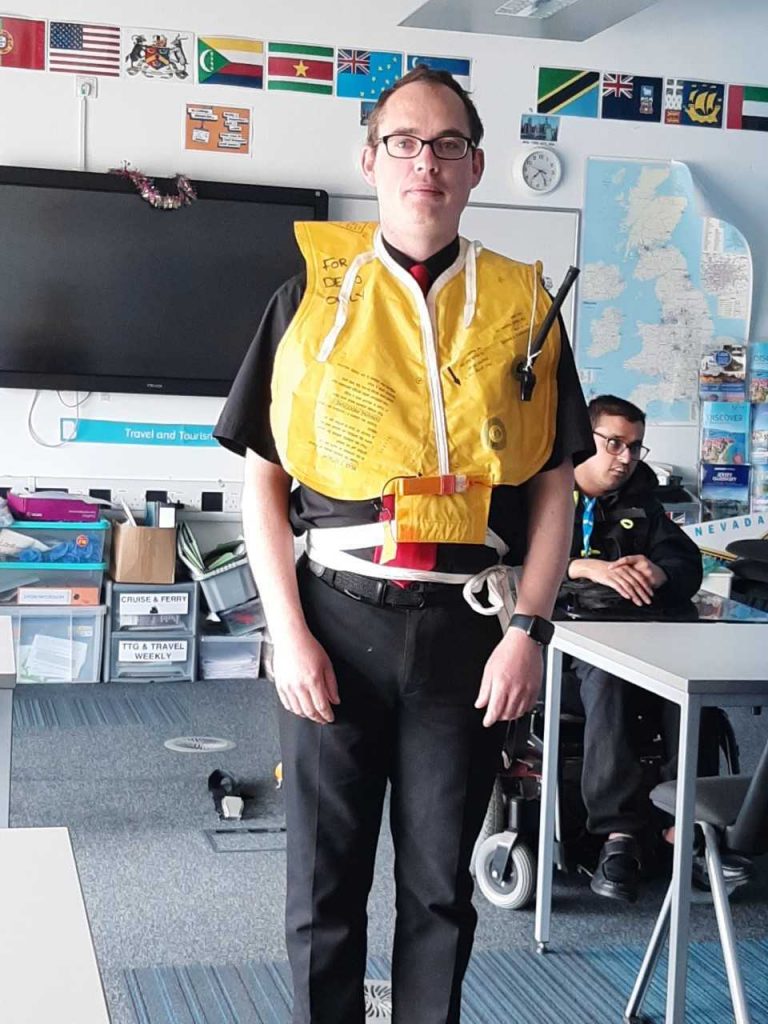 Since then, there's been no looking back. Matthew has since progressed from level 1 to 3, not missing a single class in four years and passing his assessments with flying colours. Never taking the easy road, Matthew continues to take on new challenges including team leadership roles and organising and delivering events.
His newfound confidence and skills are also benefiting his community, as Matthew now volunteers in the college bar and restaurant, as well as in the autism community to support people facing similar challenges.
Organised by Learning and Work Institute, and supported by the Department for Education, Festival of Learning is an annual campaign which aims both to celebrate the power of learning to transform lives, and to encourage more adults to take part. Matthew has been selected by HRH The Princess Royal as the winner of the Patron's Award.
Matthew Turner, winner of the Patron's Award, said:
"Taking this step back into education as an adult has opened so many doors for me and helped me to transform my life. It has improved my confidence and I am able to communicate and even lead in group situations. My learning has made me more social, and I am now a prominent figure both at college and within my autism group.
I am looking forward to pursuing my career in the travel industry or perhaps go on to university. I feel ready to take on any challenge now."
Sarah O'Connell, lecturer in travel, hospitality, aviation and events at Bradford College, said:
"Matthew is an outstanding inspiration to all and achieved so much along his journey to prove to all those who did not give him a chance that he is more than capable. He never lets anything stop him. I can't think of anyone more deserving of this award and we are all so proud of what Matthew has achieved."
Dawn Leak, Vice Principal, Bradford College, said:
"We are incredibly proud of Matthew and delighted with his achievements. He is the perfect example of the power of lifelong learning to transform lives. He thoroughly deserves this recognition, and we believe he has a great future ahead of him."
Stephen Evans, chief executive of Learning and Work Institute, said:
"Matthew's return to learning in his 30's required great personal courage, but it has transformed his life and the possibilities for his future. He has embraced learning with open arms, growing in confidence and improving his health and wellbeing. We are delighted that HRH The Princess Royal selected Matthew as this year's Patron's Award winner.
"Festival of Learning awards celebrate the commitment and achievements of outstanding adult learners, tutors, learning provision and employers. These stories show us how transformative lifelong learning can be for individuals, families, communities and society. As we look to build back better after the pandemic, we need to redouble our efforts to widen access to lifelong learning."
Read his inspirational learning journey here
It was an extra special celebration as fellow Bradford College student Aidan Wright made the national shortlist for the Festival of Learning Awards and was highly commended for his achievements.
ENDS
Contact
For more information, or to request an interview with Matthew, Bradford College or Learning and Work Institute, contact Helena Wysocki [email protected]
Notes to editors:
Follow us on Twitter: @learnworkuk @festival_learn #festivaloflearning2021
Festival of Learning (www.festivaloflearning.org.uk) is the biggest celebration of lifelong learning in England. The campaign, which has been running since 1992, is led by Learning and Work Institute and supported by the Department for Education.
Through the stories of our award winners, Festival of Learning aims to celebrate and showcase the breadth of benefits learning can bring to individuals, businesses, communities and society, and inspire more people to learn.
Festival of Learning has been recognising the achievements of individuals, tutors, projects and employers across England for more than 25 years. This year's winners and finalists were selected from 250 nominations. All their stories can be read on our website www.festivaloflearning.org.uk/our-award-winners/
In 2020, the Employer and Learning for Work awards are sponsored by NOCN, the Tutor award is sponsored by the Education and Training Foundation, the Return to Learning award by City Lit, the New Directions award by the Skills and Education Group, and the Learning for Health Award by the WEA.
The Patron's Award winner was selected by Learning and Work Institute's patron, HRH the Princess Royal, and the President's Award winner chosen by Learning and Work Institute's president Nick Stuart CB.
Learning and Work Institute (www.learningandwork.org.uk) is a policy, research and development organisation dedicated to lifelong learning, full employment and inclusion. Our work is aimed at achieving positive change for individuals and communities to secure increased access to learning and skills and improved employability and career progression