Entry 3 and Level 1 Award in Hairdressing
Subject Area
Hair, Beauty & Barbering
Qualification Gained
BTEC Level 1 Award in Hairdressing
Study Level
Entry Level, Entry 3, Level 1
Duration
1 year Full-time
Start Date
05/09/2022
Study Mode
Full-time
Overview
This Introductory Level 1 Award has been designed for 16–18 learners who wish to achieve a Level 1 qualification in preparation for future study. The qualification is designed to maximise opportunities for learners to progress by focusing on the development of transferable and sector-related skills. The qualification has been designed explicitly to meet the needs of this group of learners in terms of content, assessment and progression.
The Pearson BTEC Level 1 Introductory Award in Hair and Beauty is designed around practical skills and tasks that place an emphasis on learners demonstrating what they can do rather than what they know in theory. The qualification gives learners the opportunity to acquire and develop generic, transferable, and sector-specific skills in order to complete tasks and demonstrate a level of achievement that enables them to progress to further learning. The Award offers an introduction to the hair and beauty sector and could be studied alongside other subjects within a study programme.
The Pin Up Hair company is one of our industry partners on this course and provides masterclasses and outstanding work placements for our young people on the course.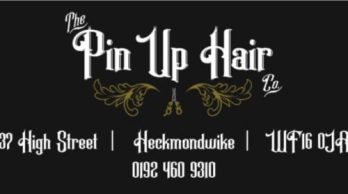 Key Info
Sector specific skills include:
Employability Skills for the Hair Industry
Hairstyling
Hair Care
Introductory Barbering Skills
The course is based on a Programme of Study which consists of:
The Vocational Qualification itself
A City & Guilds Employability Award
Maths and English
A Tutorial Programme
Work experience
Learners will study three core Employability units and three sector specific units over the duration of the course.
Our experienced staff will deliver a variety of practical workshops, classroom sessions and presentations alongside independent student research. All learners taking this qualification will study core units that focus on key transferable skills such as research and planning, time management and working with others. Learners will also take a number of sector units. The content of the sector units offers a broad introduction to the skills and knowledge within that sector, allowing the delivery to be practical and active in order to engage the learners. For the hair and beauty sector, the units cover topics and activities such as finding out about the careers and progression within the sector, responding to a brief to come up with ideas, and carrying out hair and beauty treatments. We will be visiting such places as Pro hair live and guest speakers are also used to help enrich your learning experience.
Employability Units:
Keeping Safe
Career Planning
Stress Management
Hair Units:
A2 Developing a Progression Plan
HB12 Demonstrate Hairstyling
Level 1: You should have keen interest in Hair dressing and achieved a minimum 2 GCSE at grade 2 or E or above.
English and/or Maths will be included in your timetable if you have not achieved a GCSE at grade 4 or above in these subjects when you start your course.
You will be assessed through a range of methods that include coursework, assignments and practicals.
30 hours of relevant experience of work are included in the course.
Successful completion of the BTEC Level 1 Award in Hairdressing can help you embark on a career in a Hairdressing and Beauty related area. The subject can be the beginning of the journey to your career in Hairdressing, you may choose to work in the public sector but you also have the opportunity to work in the Fashion and Media industry.
Fees
If you are 16 to 18 years old you won't have to pay tuition fees.
Gallery
Our prospectus, college documents and website are simply here to offer a guide. We accept no liability for any inaccurate statements and are not responsible for any negative outcomes if you rely on an inaccurate statement.
When you sign forms and accept a place at the College, you agree to abide by College rules and any changes made to them, and accept that we have the right to reject applicants. You also accept that there are certain circumstances that could prevent us from providing some services or programmes. These are: changes in Government funding policy, low class numbers; severe weather conditions; severe damage to buildings; circumstances which may affect the health and safety of staff and/or students, or any other relevant circumstances outside the reasonable control of the College. In these cases, we reserve the right to withdraw any programmes or service.