BSc (Hons) Networking Infrastructure and Security
Qualification Gained
BSc (Hons) Networking Infrastructure and Security (awarded by the University of Bolton)
Study Level
University, Level 6
Duration
Full-time: 3 years, Part-time: 6 years
Start Date
September 2023
Study Mode
Full-time or Part-time
Location
Advanced Technology Centre
Overview
Our innovative course combines the study of secure networked systems, infrastructure and associated services and therefore aims to provide you not only with a core set of technical skills, but the knowledge of technology to best use them.
We also aim to prepare you for the competitive computing industry by training you in a range of vendors, which is increasingly sought after in the sector.
In your final year, you will have the freedom to specialise in a preferred area of study, which your Final Year Project will be based around.
We also place particular emphasis on employment in the field, and your accumulative body of work will be brought together to form a portfolio to showcase to potential employers.
Our degree course is an opportunity for you to develop the knowledge and skills necessary to address industry challenges and meet the demand.
We have a three-year programme for those who meet the UCAS points. This can be studied on a full-time basis (three years) or on a part-time basis (six years). We also have a four-year programme which includes a foundation year for those who may not have achieved the required UCAS points. This can be studied on a full-time basis only.
If you only need to study the Top-up level 6, this can be studied on a one-year full-time basis or a two-year part-time basis.
Key Info
Today's businesses demand the ability to have computer systems and networks, which operate on a global scale. You'll learn from a well-rounded curriculum in computer network infrastructure, programming, server systems, security theory and practice, as well as management-level skills, maximizing your career potential.
The course uses a wide range of learning methods with a focus on practical workshops. These are designed to allow you to develop your skills and knowledge in a supportive environment. Additionally, although contact hours are tutor and group-based, independent learning is increasingly developed throughout the course, and actively encouraged for your personal development; use of problem-based exercises and relevant scenarios aid this process.
You will:
Learn within a practical lab environment
Develop critical skills and cutting edge thinking to gain the confidence to keep up with the fast pace of change in this field
Develop technical knowledge of the installation, operation security, and maintenance of computer systems and networks used in business and industry
Develop industry-critical key skills such as team working, communication and business skills
Learn the fundamentals of data communications and how to apply this knowledge to manage, design, implement, configure and operate secure networks on a professional footing
Learn how to identify a range of significant threats to network security and formulate and implement defence strategies
Have the opportunity to gain additional accreditation from Cisco, CompTIA and AWS
Have opportunities to work on real-life projects
For students who have not achieved the required entry requirements to enrol, there is an option for a Foundation year (48 UCAS points entry) which is a 4-year programme.
Year 1 (Level 4):
Automated Security Fundamentals
Introduction to Academic Skills
End Point Management
Coding and API Principles
Introduction to Network Environments
Introduction to Server Management
Year 2 (Level 5):
Helpdesk Management
System Administration and Operation
Network Performance Monitoring
Routing and Switching Environments
Core Security Implementation and Management
Cloud Concepts (AWS)
Year 3 (Level 6):
Scaling Networks for the Enterprise
Network Vulnerability Management
Cloud Solutions (AWS)
Employability Skills for Computer Graduates
Final Year Project
Entry to this course requires 80 UCAS tariff points (48 for Foundation entry) as well as GCSE English and Maths at grade 4 or C.
Applications are welcomed and encouraged by those who do not meet the standard entry requirements but can demonstrate the ability to study at Higher Education level. Some credit points may be built up through prior learning and experience. We also consider individual applicants who can demonstrate relevant learning, work/voluntary experience, using our Recognition of Prior Learning process. Please contact the admissions team for further information and support.
Assessment is centred on the practical and professional skills required by the industry, and therefore you will be specifically focusing on deriving a solution to a specified problem through researching, analysing and evaluating the issue.
This creates a workload which is mostly practical but will be built on through written work such as reports and essays.
Group work is also used to promote transferable skills where appropriate.
The course will provide you with the opportunity to gain work experience through working on 'live projects' for local and regional employers and stakeholders. Furthermore, your will have the opportunity to gain work experience alongside your studies in the form of short one or two week secondments.
Successful completion of this course can lead to progression into Computing related sectors.
Full-time: £9,000 per year. Part-time: Pro rata rate depending on intensity of study* *Intensity of Study refers to the amount of credits being studied in the academic year.
This is representative of the most common fees scenario, but actual fees can vary depending on a number of factors. Please contact us if you need more guidance.
Our Students Say
This course has prepared me for my career as it's helped me with my social skills. During the Summer I did work experience for the IT department at College and in my final year was offered a part-time job with them as an IT Services Assistant. I think that's going to look really good on my CV and I feel like it will help me in the future.
Connor Hemingway
Current Bradford College student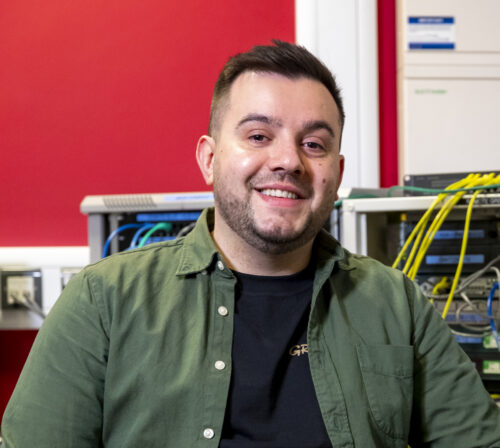 This course helped me to build my confidence and with smaller class sizes, you have that intimacy with your teachers to get one to one support. There's a lot of engagement with other companies so in my final year, I was entered into World Skills UK, which is an international competition in Cloud Computing, to represent the UK and went to Russia to take part. After graduating, I now work as a Network Engineer at TransUnion in Leeds.
Eduard Adam
Network Engineer at Trans Union, Former Bradford College student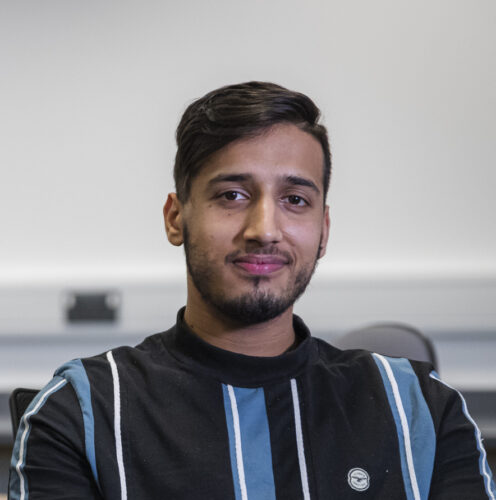 I'm currently doing my final year project. I'm currently doing coding, so I'm going to showcase that to a large audience at the end of the year. You can be flexible, you get to look at different fields in different areas. So, there's coding, there's hardware, and much more. There's going to be opportunities when I finish this course where I've got modules which will benefit me in the future, not just in one specific area.
Harees Ahmed
Current Bradford College student

Disclaimer: Our prospectus, college documents and website are simply here to offer a guide. We accept no liability for any inaccurate statements and are not responsible for any negative outcomes if you rely on an inaccurate statement. We reserve the right to withdraw any programmes or service at any time.
This course is delivered in partnership with